Poetry is a classic expression of feelings, sentiments and outlook in life of an author. Its definition in the dictionary is metrical writing but it has since evolved to abstractive forms where meter and rhyme doesnt go anymore and freedom for expression is of utmost importance.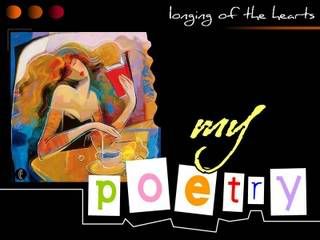 I have always loved poetry. Since my elementary days, I was already fond of writing poems. I was in grade two [if my memory served me right] when I first publicized my poem by giving it as a mother's day gift to my mom. Since then, I have written poems and essays and dreamt of becoming a writer.
Since many of my poems are written in Filipino, I'll just post here those I have written in English. I will also post here poems from my friends and fellow journalism students way back in college. They too have great stories to tell and they are very creative too!

For those who wanted to post their masterpieces here, just send it to me thru email: marikenya@yahoo.com
Enjoy reading.
QUESTIONS
by Mhel
All things shall pass.
The aesthetic flowers, the proud trees, the chirping birds
and the sublime creation,
Man.
Why live?
When we, like all others shall pass too.
Why work?
When all out hardships will not be paid
because of near end.
Why hope?
When there is no such thing as immortality.
Why breath?
When you fathom it may be your last.
Life is a creation made to be destroyed.
How fool is to live life!
A LOOK ON DEATH
by Mhel
In the middle of the night
Vaguely, I stand
And started walking
Along a dirty, narrow path.
Inside the dim light
I saw
A poker face
Of a tall, thin man
With a long beard
Holding the most dreadful axe I ever saw.
His eyes were sharp
Ready to smash you in a glance.
His paws were like the lion's
Waiting for his trap.
Looking at me he said,
"Son, glad you arrived,
I've been waiting for this union
All your worthless life."
I ran and ran
Until I fell
Not once attempting to look back
Afraid of seeing him once more.
I ran and ran
"Till I arrived
To the familiar bed where I used to nap.
There I saw
my own body resting peacefully.
As I look at myself,
I heaved a sigh of relief
For escaping the fate
Of uniting with death!
*************************************
Would you like Marikenya Articles In Your Email? Subscribe Now!

*************************************
Read More Interesting Articles.