If you know Filipinas who are worth appreciating and featuring in this website, please email it to marikenya at yahoo dot com. Please include photos with your article.
Everyday, I see greatness of Filipino people (no matter what they say that our nation and society is bombarded with negativities). Specifically, I admire and love Filipina women (not only because I am one) for having values that every Filipino, men and women alike, should be proud of.

My Pinay heroine for today is Julie M. Borje (without any salutation of Ms. or Dir. in her name because she is so modest she just wanted everyone to address her as such). Her name is becoming popular these days because she was appointed as chairman of the Board of Jurors and Selection/Screening Committee for the Metro Manila Film Festival for 2007. If you google her name in the internet, you will find in the search results, aside from the MMFF, links on the various projects and programs she was involved with locally and internationally.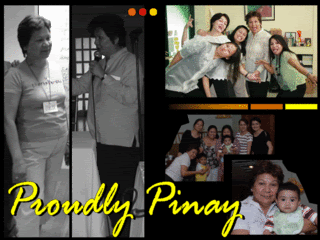 Julie Borje is currently the director of the Marikina Center for Excellence. She is my mentor and who I consider my kernel of power in the institution where we belong. She once told me during a time that I was terribly upset with some people in the organization: "Your inspiration should come from within you, not from others so you won't get lost and frustrated when your models do something bad."

What I admire most about this woman, aside from her outstanding academic background and professional achievements, is her being a woman of dignity and character. In the world of government and politics, she remained firm with her values: not giving in to corruption, working with excellence despite frustrating circumstances, and her being fair and rational.
I would never forget what she always emphasize: "It does not matter that we are not paid much. I am guiltless and able to sleep peacefully at night because I am not spending money that I don't deserve and I'm not hated by people."
Julie is a consultant-facilitator, a writer (published resource books such as The Emerging Filipino, Teaching-Learning Process as Human Helping, and Towards a Person-Centered Community), a leader and mobilizer, an activist, a feminist, a thinker, a good friend, daughter, mother and wife. What more, with her talents and intelligence, it's so easy for her to triumph and be highly paid abroad but she decided to stay in the Philippines and help our country in any way she can.
Julie Borje is indeed an epitome of a Pinay to be proud of.
Would you like Marikenya Articles In Your Email? Subscribe Now!