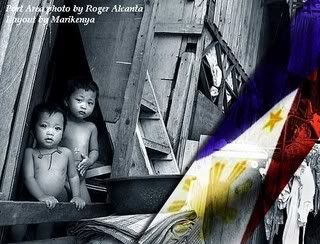 Last week, I attended an International Symposium for PovertyAlleviation held at the DepEd Complex in Pasig City. It was hosted by an international technician education college (CPSC) and in collaboration with different international and regional organizations including Asian Development Bank, European Training Foundation, ILO, FAO-UN, SEAMEO, InWent, IBM and others. I was lucky to attend this symposium which gave me a deeper insight on poverty at a larger scale.
Among the many reasons for poverty, not only in the Philippines, is the rapid urbanization and migration of rural people to urban centers. These migrants' motivation for leaving their rural life to endure urbanity are: poverty, poor health, unemployment, air and water pollution, poor sewerage system, lack of basic education, lack of vocational skills, and unemployment.
I highlighted the last three reasons because the symposium targeted these areas for poverty alleviation. To quote:
Rapid progress in poverty reduction is crucial for achieving the UN Millennium Development Goal (MDG) of eradicating extreme poverty and hunger. International experts around the world agree that one of the ways to achieve this is by providing relevant modular and employable skills leading to gainful employment or self-employment.
Poverty and unemployment is not a problem unique to the Philippines. In fact, many countries in Asia-Pacific, including China and India, have deep pockets of poverty in rural and urban areas. And althought poverty incidence has quickened recently due to educational reforms and skills development programme, there's still so much to be done.
The UN and all other international organizations believe that the master key to poverty and unemployment is Technical and Vocational Education and Training (TVET).
What is TVET? It is the branch of education directly linked to the preparation of learners for the world of work. TVET is concerned with with the acquisition of occupation specific skills, knowledge, and attitudes. Dr. Chiranjib Kumar Basu, Director Emeritus, CPSC
It is not surprising that TVET is indeed the answer. In Marikina alone, the program on redirecting the youth towards learning short and employable skills versus aspiring for college degrees, has along ago started. Need for highly-specialized technical workers are high not only in the country, opportunities are far-reaching and abundant overseas.
However, there are challenges facing the development of TVET in our country and in the whole of Asia-Pacific Region. A Manila Declaration was promulgated at the end of the syposium as an attempt to address the worldwide issue on poverty.

The fight on poverty does not rest alone in the arm of these international organizations or the government or the academe. If we are to hope for a better Philippines, not just for our sake, but more importantly, for our children, we better consider it as our fight. Our very own challenge lie in the question — "What I can do to take part in promoting and supporting the development of TVET in my country?"
Let's start thinking, shall we?
Relevant Article:
Manila Declaration, International Symposium on Skills Development for Poverty Alleviation, Philippines
Would you like Marikenya Articles In Your Email? Subscribe Now!