By and large, mothers and housewives are the only workers who do not have regular time off. They are the great vacation-less class. Anne Morrow Lindbergh, American aviator, Gift from the Sea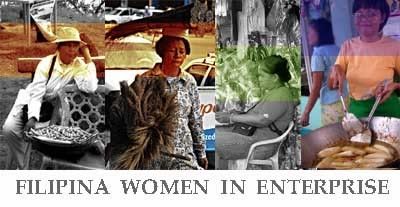 There is an increasing number of "enterprising filipinas" today. Most of them are engaged in micro enterprises, and for many, in the informal economy where they operate in a poor working condition and environment with little prospect of being able to work their way out of poverty. All, however, endure these challenges for one unselfish reason — income generation for her family.
Unfortunately for women, engaging in business is far more challenging and intricate than for men. In many societies and economic situations, women in poverty do not have much opportunity to assess their own situation, to appreciate their own strengths, and to overcome their weaknesses in coping with the entrepreneurial world.
This disadvantage for women entrepreneurs is disturbing since most of them are not often aware of their unequal representation in the business world, thus, the difficulty for growing their businesses.
While men can focus on his business activities, women strive hard to juggle her different family and household responsibilities while running and trying to develop her business. She often face pressures to share the profits of her business within the household, the larger family environment and even within the community.
It is a must that not only women, but her family as well, realise that small-scale women entrepreneurs are permanently confronted with solving problems and overcoming difficulties that come up in her personal and social life. These factors, if not well-managed, may result to her negative performance in handling her business.
In my experience in conducting gender-based module on entrepreneurship, it was apparent that in our society, there is an immense pressure, especially for women, to use their business money and resources for other social purposes in the family or community. It is a reality that I, as a budding businesswoman, actually experienced and still endure. Oftentimes, women find it "hard to say no" because they have been socialized to help others. I believe filipina mothers are even "maternal" in handling their businesses which may hurt its financial state.

Being a Filipina, I feel proud that women continue to emerge victoriously in different fields. In business though, we have to take into consideration this guide from the International Labour Organization (ILO):
All business people need to keep mind that too many "giveaways" will harm the business and lead to business failure. Therefore, it is important that business people learn to prioritize.
The questions to be considered in spending business money are:
Can my business afford a contribution to something else?
How important is the contribution in achieving their economic and social goals in life?

There are indeed a lot of challenges for the filipina entreps everywhere but I believe that Filipinas will emerge victorious in the end. We always do. 🙂

*************************************
Would you like Marikenya Articles In Your Email? Subscribe Now!


*************************************
Read More Interesting Articles.