The introduction of gender laws in the Philippines has showed substantial progress in terms of protecting women and children from abuses. In other countries in Asia and in some parts of our country however, gender discrimination remains pervasive.
Although the efforts of the government and NGOs and other concerned groups are laudable in promoting gender equality, it seemed off-track or probably lacking attention on particular segment of "women" like youth and the elderly.
While there are a lot of activities and programs on addressing gender parity, most of these efforts are directed towards the very young (children) and adults (those in their mid-20s to middle-age). Although there are, it seemed that promotions of gender empowerment targeted for the youth sector of our communities are insufficient. Take for example the increase of porn websites featuring young Pinays, not to mention those who provide live show for foreigners in their very own home in exchange of dollars. Many teen Filipinas also fall for the empty promises of online dating sites as well as mail-to-order bride programs in the hope of finding rich foreign husbands or lovers.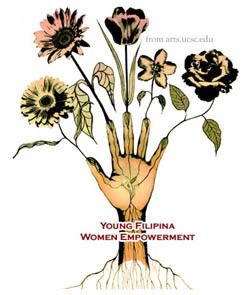 The problems of teen pregnancy and marriages are also prevalent. Most cases, these predicaments are prone to rebelling teens who were thinking of entering into relationships as an escape from family problems. There were also cases of physically, sexually or emotionally abused teens.
In this day and age, you'd think our youth are wiser, more practical and more responsible but no, they're still young, they need guidance. Our young Filipinas need to be prodded on developing their awareness on their fragility to be in abusive situations. We must invest more on transforming and developing our young women. Soon, they would be the champions
of gender equality and development. They are the future of the kind of Filipino Women we shall have in our society.
If we are reshaping the Filipina images online, it would be a good step also to uplift the online images of our young Filipinas. I hope that one day soon, when I google the word Filipina teens, I would not be given tons of porn sites on our young Pinays. I hope that soon, all our young women would be wanting to get the highest education they can have, that they would be promoters of advocacies, and that they would be dreamers of the good life. I hope they would be more self-assured and sensible that they would not be jumping from one messy situation to another in a state of confusion.
Let us hope but let us not only do that, let us also combine our efforts in helping our young Filipina to be truly empowered.
*************************************
Would you like Marikenya Articles In Your Email? Subscribe Now!


*************************************
Read More Interesting Articles.
--> If you liked Marikenya.com, the author or her works, you may want to help grow Marikenya's Education Fund for her Son by donating any amount through PayPal or Credit Card by clicking the DONATE button. Thanks!
Have Marikenya in your Site…